"..This record is a Triumph
in the Roots, Blues and Americana Categories.
...Laid back like Croce or Taylor, down in the blues with Sumlin
and Clapton, and tickling the strings aíla Bruce Cockburn..."

"A little bit of Prine and Goodman come out to play (not literally)
in Stop Blaminí Me and Thirty Years. From cracking jokes
and making light to getting serious and deep,
Angelo Mís songwriting is top notch."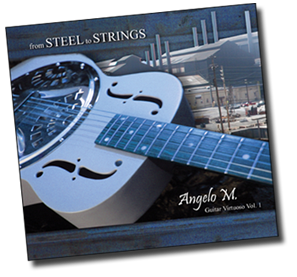 "And his musicianship? Ah, well, if fingers normally
had wings, I might understand, but they donít
and, wellÖ wow!

- Brett Cambell, Middle Tennessee Music


All Muisc & Lyrics by Angelo M.


From STEEL to STRINGS
1. That Train
2. Every Kind of Blues
3. Far From Home
4. Wounded Heart
5. Lost
6. Anytime
7. Stop Blammin' Me
8. All That Runnin'
9. Priorities
10. Thirty Years Me
11. Runnin' Late
12. Sweet Little Thing
13. Far From Home II
14. Never Be the Same
15. Ain't Our Love Song
16. Half the Time
Download from iTunes